Welcome to St Michael's Catholic Primary School Belfield where our school motto, Faith, Learning, Love underpins everything we do. You are invited to be a part of our faith-filled community where every child is nurtured to reach their full potential.
As we are a very family oriented community, our students experience a strong sense of belonging to a joyful, supportive and caring community which is evident in their respectful relationships with the staff and other students.
Our school is located in a quiet street in the tranquil, leafy suburb of Belfield. We have an expansive grass playground where the children have room to run and play freely as well as a large area with play equipment for the children to climb and develop their movement skills.
As a Catholic school, we are deeply committed to the development of the whole person. In partnership with our parish and families, we strive to bring about the teaching of Jesus and the Gospel message. Founded by the Dominican sisters, with ideals and beliefs based on Veritas, -truth- the school has continued to grow and has become a well respected place of education in the Belfield area.
Here at St Michael's we achieve excellent academic results, educating 21st century learners in contemporary, vibrant learning spaces. The learning opportunities provided by our highly skilled and dedicated staff ensure that optimum and individualised learning experiences are provided for all students.
We encourage our students to adopt a positive growth mindset to believe in themselves and set goals for improvement, empowering them to take responsibility for their own learning and development.
Our students in Years 3-6 have the unique opportunity to be involved in the Sydney Catholic Schools Amadeus project, where every student is provided with a musical instrument, either brass, woodwind or string, and has personalised tutoring in small groups. The students also play in ensemble groups each week.
We look forward to welcoming you to our exceptional community here at St Michael's Belfield.
Mrs Kim McCue
Principal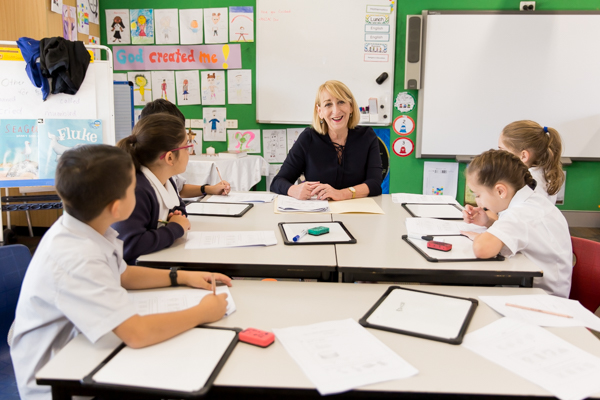 Proudly Part of the Community of Sydney Catholic Schools
Our school is part of a system of over 150 low-fee Catholic schools in the Sydney Archdiocese.
Sydney Catholic Schools are thriving Catholic communities that ignite a love of Christ through excellent teaching and learning to empower students to reach their full potential.