Through the Family and Faith program, parents – as the first educators of their children – are invited into a deeper and more intimate relationship with the person of Jesus Christ.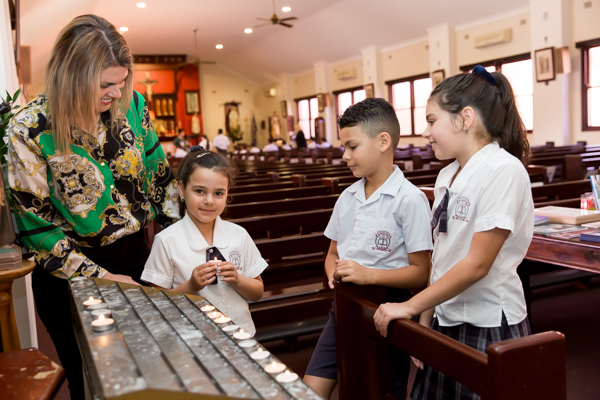 We nurture strong and meaningful parish, family and school relationships. Our Family Educator creates opportunities to enhance family engagement in the faith life of the school and parish. These initiatives include: organising prayer times for parents, supporting the Rosary prayer group and being visible on the playground.
Playgroup
Fortnightly playgroup sessions take place at the school to assist and develop early childhood skills and school readiness. These sessions help nurture and foster parent interaction and wellbeing. These sessions also include a visit to the church to support the child's faith formation.
Senior Rosary group
Every fortnight during recess, the Family Educator takes the senior Rosary leaders and any other students from Kindergarten to Year 6 to the church where the senior Rosary leaders, lead the praying of a decade of the Rosary and the other students respond. This initiative assists in nurturing and developing the prayer life of the students.
Family Rosary
Monday nights at 6.00pm during the school term, the dads lead the Family Rosary in the parish church. The children take turns using the microphone to pray two Hail Mary's each. It is attended by the children of the school and other children in the community. This initiative promotes a love of prayer both within the church and school community.
Family and the faith bookshelf
The Family Educator purchases Catholic literature, prayer books, CDs and DVDs which are displayed on a bookshelf at the back of the church. These resources are available for parents, parishioners and community members to purchase. The resources range in level from early childhood to adulthood. This initiative helps introducing, connecting and reconnecting families in faith formation.